Grab Sampling
Swagelok Cleveland | Charleston | Columbus offers a comprehensive range of Grab Sampling Systems designed to provide a safe, efficient, and effective method of capturing samples from process lines. Our products are designed to meet the demanding requirements of process and plant sampling applications in a variety of industries, including chemical, petrochemical, refining, and more.
Our Grab Sampling Services provide the following features:
Safety: Our systems are designed with safety in mind. We offer a range of products that are designed to be easy to use and operate, minimizing the risk of accidents and injuries.
Efficiency: Our Grab Sampling Systems are designed to capture accurate samples quickly and efficiently, saving you time and money.
Effectiveness: Our systems are designed to capture samples in a way that ensures accuracy and consistency, providing you with reliable data for analysis and decision making.
We offer a range of Grab Sampling Systems, including:
Grab Sampling Panels

Cylinder Sampling Systems

Process Probe Sampling Systems

Vaporizing Regulator Sampling Systems
Our Grab Sampling Services are backed by Swagelok's commitment to quality, reliability, and customer service. We understand that your sampling needs are unique, and we will work with you to design and implement a sampling solution that meets your specific requirements. Contact us today to learn more about our Grab Sampling Services and how we can help you improve your sampling process.
Swagelok offers two categories of grab sample systems:
Grab Sample Modules (GSM) using cylinders: Page 7 of Application Guide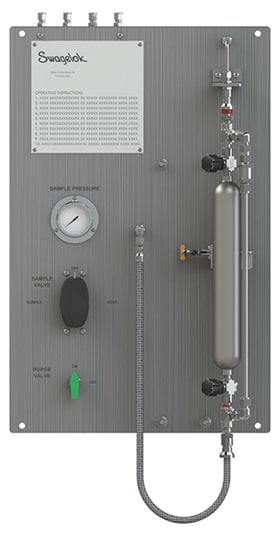 Liquid-Only Systems (GSL) using bottles: Page 28 of Application Guide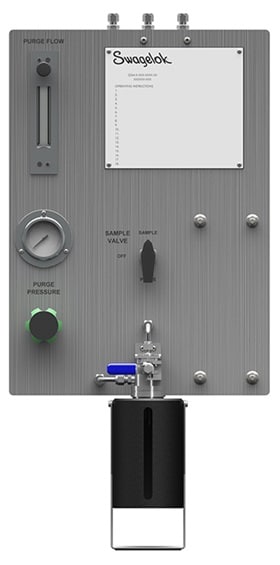 Customizing Swagelok grab sample systems allows for safe, efficient sample capture—meeting your specific plant application needs. The panels are available in a variety of configurations and advanced features. Plus, local support ensures fast, dependable expert service.
Designed and built with the reliable components you trust from Swagelok
Local, factory-certified experts for local fabrication and support
Versatile mounting options for easier installation
Standard sample systems can be configured using a part number table for simplified ordering
Additional instrumentation is available, including gauges, meters, and flow indicators
Backed by the Swagelok Limited Lifetime Warranty
Learn more from our Swagelok BLOG!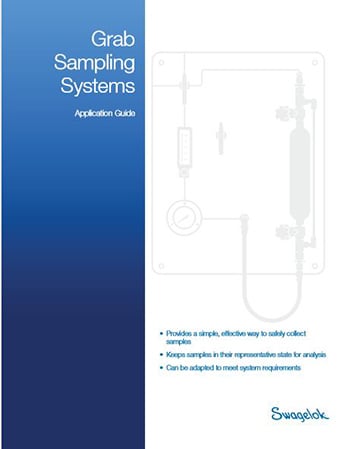 Download our Application Guide
As always we are happy to take any questions or inquiries you may have regarding our products and services. All of our contact information is below.
CONTACT US