Advancing Science With Fluid Systems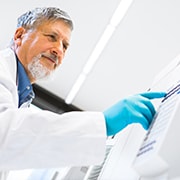 Your research already demands your full attention—fluid system leaks shouldn't be part of the equation. Rather than spend your resources on designing, sourcing, building, and testing an assembly, you could leave it to our experienced fluid system specialists. We offer you convenient access to a global network of engineers, technicians, and other professionals ready to support your project from concept to completion.
There are many ways Swagelok acts as an extension of your laboratory, engineering, or research and development team, including:
Focusing on manufacturing quality and extreme precision that have supported both public and private R&D efforts and institutions for decades
Offering a wide array of products designed to help you deliver fluids from source to point of use, safely and accurately, with minimal waste and inefficiency
Providing access to experts who can support you at every step in the process and who understand your technical and business requirements for achieving optimal results
From high-pressure to ultra-high vacuum applications, you can rely on Swagelok for the fluid system expertise that keeps your operation safely on the path to the best outcomes so that your idea goes to market faster.