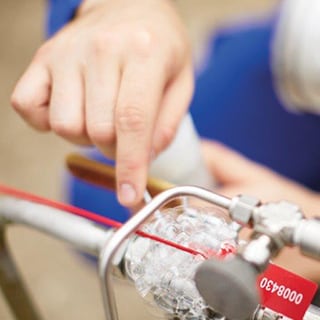 In addition to maintaining a local stock of best-in-class products manufactured by Swagelok Cleveland | Columbus | Charleston consistently brings additional value to customers in our service area. In fact, on an annual basis, we document value equal to 35% of our customers' spend. Below are a few of the value-added services we provide. Contact us to see if there is a combination of services we can provide to help you achieve your business goals.
Credit Card Purchasing – Save time by avoiding purchase order cycle, ease of payment and tracking.
Custom Solutions – Partial or complete build of your fluid system according to specifications. Let us reduce your labor burden so you can deploy skilled labor on larger tasks.
eBusiness Solutions – Electronic ordering and payment, downloadable CAD templates on the web, integration with your ERP or marketplace.
eCommerce / Web Orders – The convenience of ordering online.
Energy Management – Surveying your facility and calculating the cost of energy leaks at fitting and valve connections.
Engineering & Technical Services – On-site technical support, special product configurations, new product development, and collaboration on special design problems or challenges. Assistance selecting the appropriate component(s) for your application.
Equipment Services Rental Program – Swaging units, tube benders, hand tools, or orbital welding equipment provided for rent to reduce capital expenditures.
Fulfillment Services / Sourcing Products – Reduce the number of vendor transactions and let Swagelok source items outside of our product line.
Hose Advisory Services – Surveying your facility to document locations and conditions of hoses on a periodic basis to perform preventative maintenance or replacement.
Just in Time Delivery – Product delivery just when you need it, not before.
Kitting – Grouping and packaging of products, organizing inventory, simplifying ordering.
Product Evaluations & Troubleshooting – Testing and evaluation of Swagelok products to ensure the right match between product and application.
Product Substitutions – Assistance in meeting time constraints by selecting products with better availability or to prevent misorders.
Scheduled Shipments – Take advantage of quantity discounts and protect availability by purchasing in advance and staggering scheduled ship quantity and dates.
Steam Audits and Training – Evaluating your steam systems, calculating costs associated with inefficiencies, providing recommendations, and educating your team.
Summary / Consolidated Billing – We can compile your invoices and bill once a month.
Vendor Managed Inventory – Managing inventory on your site so the components you need are always available.
You may have a need that we do not know about yet. And we may have a solution that you are not benefiting from. Let's talk about how we can build an even stronger relationship that is beneficial to both you and Swagelok. Please contactor email us today.
---
CONTACT US